The Automatic Syrup Bottle Filling and Capping Labeling Machine is a highly efficient and advanced packaging equipment widely used in the food and beverage industry. This machine is designed to fill, cap, and label bottles of syrup, juice, or other liquids in a fast and precise manner, reducing labor costs and increasing productivity.
The filling system of the machine is highly accurate and can fill bottles of different sizes and shapes, ensuring that each bottle is filled to the desired level with minimal wastage. The capping system is designed to handle different types of caps, including screw caps, press caps, and more, making it highly versatile. The labeling system uses advanced technology to apply labels with high accuracy and consistency, ensuring that each bottle is correctly labeled.
The Automatic Syrup Bottle Filling and Capping Labeling Machine has several advantages. It is highly efficient and can fill and cap up to 150 bottles per minute, making it ideal for high-volume production lines. The machine is also easy to operate, with a user-friendly interface that allows operators to control the various settings and monitor the production process. Additionally, it is designed to meet strict hygiene and safety standards, making it suitable for use in the food and beverage industry.
The machine's characteristics include a stainless steel construction that is durable and easy to clean, a PLC control system that ensures precise control and accurate filling, and a variable frequency drive that allows for easy adjustment of the filling speed. The machine is also equipped with a detection system that detects missing caps and bottles, reducing waste and increasing efficiency.
The Automatic Syrup Bottle Filling and Capping Labeling Machine is widely used in the food and beverage industry, especially for filling and packaging syrup, juice, honey, and other liquid products. With the increasing demand for convenience and ready-to-drink products, the market for this machine is expected to grow steadily in the coming years. The machine is also suitable for use in other industries, such as cosmetics and pharmaceuticals, where accurate filling, capping, and labeling are essential.
Quick Description
Type: Filling And Capping Machine
Applicable Industries: Hotels, Garment Shops, Building Material Shops, Manufacturing Plant, Machinery Repair Shops, Food & Beverage Factory, Farms, Restaurant, Home Use, Retail, Food Shop, Printing Shops, Construction works , Energy & Mining, Food & Beverage Shops, Advertising Company
Showroom Location: Egypt, Turkey, United States, Italy, France, Germany, Philippines, Russia, Spain, Thailand, Morocco, Argentina, Algeria, Sri Lanka, Bangladesh, Kazakhstan, Uzbekistan, Tajikistan
Application: Food, Beverage, Commodity, Medical, Chemical, Machinery & Hardware, APPAREL, Textiles
Packaging Type: Bottles
Packaging Material: Plastic, Paper, Glass
Automatic Grade: Automatic
Driven Type: Electric
Voltage: 220V
Place of Origin: China
Dimension(L*W*H): 1300*700*1200mm
Weight: 210 KG
Warranty: 1 Year
Key Selling Points: High-accuracy
Machinery Capacity: 20-100
Machinery Test Report: Provided
Video outgoing-inspection: Provided
Warranty of core components: 1 Year
Core Components: PLC, Pressure vessel, Gear, Motor, Engine, Bearing, Gearbox
Product name: Wrap-round labeling machine
After-sales Service Provided: Online Video Technical Support
Labeling speed: 40-120pcs/min
Keyword: Labeling
Labeling type: Wrap round
Bottle type: Plastic /glass/Pet
Label material: Sticker/paper
Function: Label application
Service: Online technicians support
Drive mode: Servo system
More Details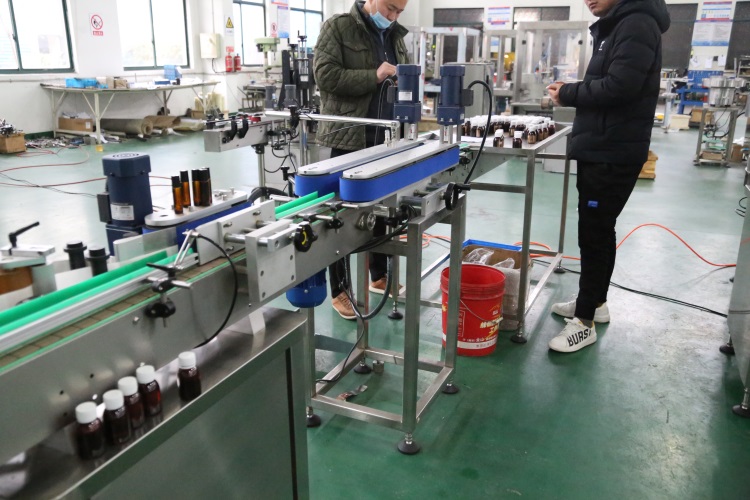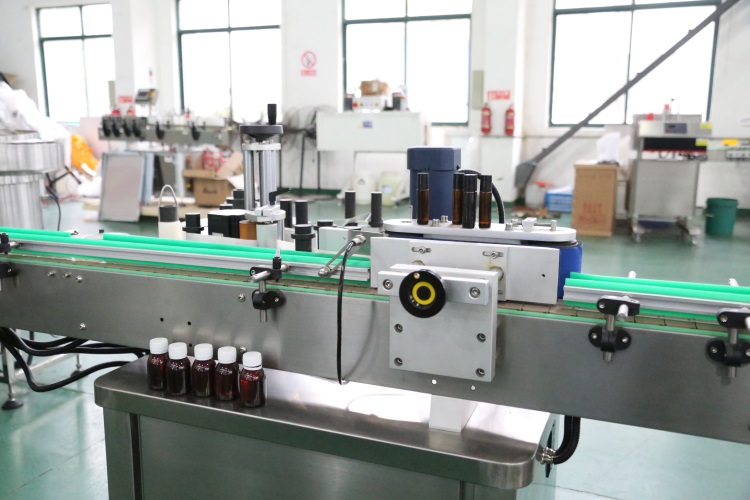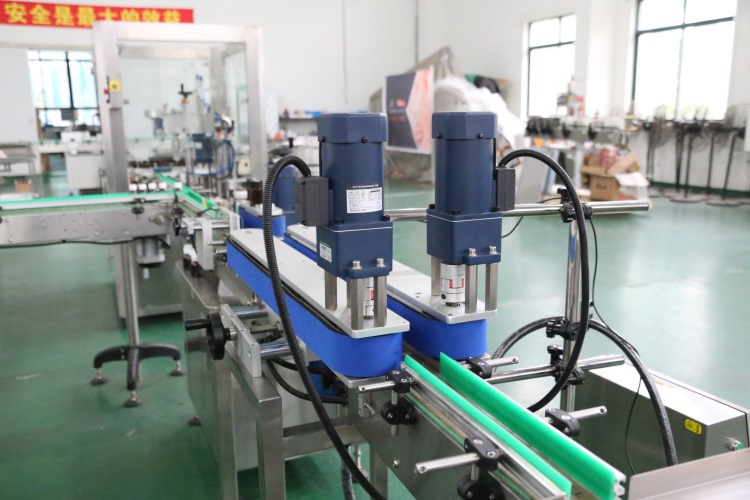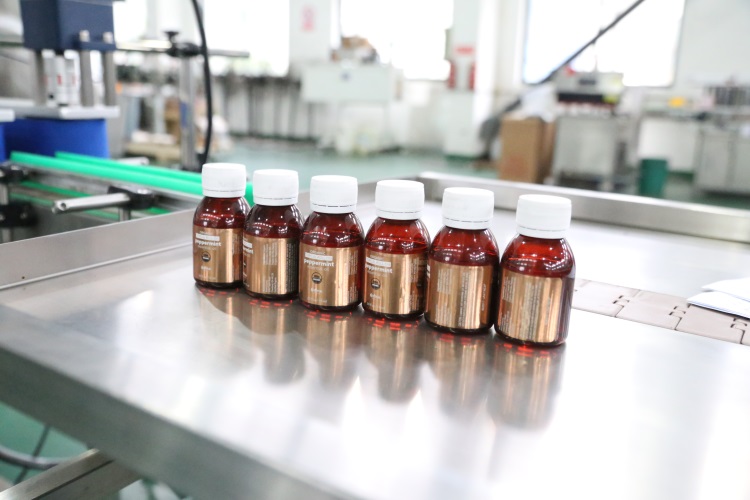 Product Description
VKPAK is a professional manufacturer of filling line for over 10 years, customized filling lines for different industry customers like food and beverage, cosmetic, medical industry, chemical industry and etc, lots of successful cases for your reference. The full automatic liquid filling machine is designed for saving time on adjusting and testing machine, it can fill liquid or paste accurately by entering a certain filling volume. The PLC control method makes it easy to operate and thigh speed working efficiency is ideal for different scale production. It can work with the automatic capping machine and labeling machine and other equipment based on customer requirement. VKPAK filling line is widely used in the following industries:
* Beverage Filling Machine Line (such as water, juice, beer, liquor, vodka, wine etc.)
* Food Filling Machine Line (such as honey, sauce, oil, chocolate, vinegar etc. )
* Chemical and Pharmaceutical Filling Machine Line (such as syrup, eye drop, alcohol, reagent, ampoul, syringe etc. )
* Cosmetics Filling Machine Line (such as perfume, body spray, nail polish, cream, lotion, detergent, hand gel etc. )
• Suitable for gallon containers
• More container shapes
• Taller and wider containers
• 360 degree touch screen
• Self teaching sensors
• Enclosed slide out controls
• Over 13% more energy efficient
• Range of label size 6 - 170mm (1/4 - 6.7") (H) 6 - 300mm (1/4 - 11.8") (W)
• Range of container width 6.5mm - 165mm (0.26" - 6.5")
• Range of container height 6.5 - 305mm (0.26 - 12")
• Conveyor width 152mm (6.5")
• Power source 110/220 v 50/60 Hz 1 PH
• Power consumption 0.660 kW
• Label dispensing speed 40m/min (131.2'/min)
• Conveyor speed 22m/min (72.2'/min)
• Label spool diameter 356mm (14")
• Label spool inner core 76mm (3")
• Drive motor Stepper
• PLC Panasonic
• Dimensions (L-W-H) 2,420 x 1,380 x 1,350mm 95.3" x 54.3" x 53.1"
FEATURES
BENEFITS
Flexible label head tilts on x-y axis
Great for round, tapered or shaped containers
Manual Adjustments
Adjustable applicator height
Suitable for a wide variety of containers and labels
Adjustable conveyor height
Easy to adapt to any existing packaging line
Manual position setting
Easy to use adjustments ensure labels are placed
accurately on the container
Touch Screen Controls
5.5" color LCD touch screen controls
Easier operation of controls
Touch screen rotates 360 degrees
Allows the machine to be controlled from any position
Stores up to 30 product settings
Faster and more accurate setup
Built-in operating instructions
Enables quick setup and easy changeover
Easy to follow fault instructions
Enables operator to quickly identify and fix problems
Screensaver
Reduces the risk of screen burn
Data storage for maintenance and usage
Simplifies scheduling of maintenance activities
Built-in printer controls
Allows for 'plug & play' future printer upgrades
FEATURES
BENEFITS
Sensor Features
Production pre-set - stop function
Automatically stops once the pre-set quantity has been met
Missing label auto stop system
Ensures all products are labeled
Label countdown
Allows operator to monitor run progress
Batch counter
Easy to keep track of batches
Label counter
Simplifies regulatory tracking of labels
Container/production run counter
Provides total production quantity
Label position set
Ensures labels are placed correctly on product
One touch label sensor
Allows operator to use "one touch" feature on sensor to "teach" the sensor the label characteristics
Auto label sensor set
Detects labels and setup machine automatically from touch screen
Auto label length set
Detect label lengths and setsup machine automatically from touch screen
Design and Construction
Adjustable to 8 speeds
Easily adjusts to line speeds
Battery free microprocessor
Maintains default settings and memory even after sitting idle for long periods
Slide-out controls and electronics stored in lower cabinet
Enables quick and easy servicing
Manufactured with stainless steel and anodized aluminum
Robust, long lasting construction with quick and easy cleanup
Manufactured to strict ISO 9001 standards
High quality, consistent manufacturing ensures easy repairs and/or upgrades
GMP compliant
Designed to easily surpass standards of compliance auditors
Fully synchronized controls
Ensures all components run at the proper speed
Stepper driven motor
Fine adjustment allows precise label placement
The unscrambler which made of SS304 is used to arrange and input bottles for label application , operator only put bottles on table . Drived by gear motor, positive and negative rotation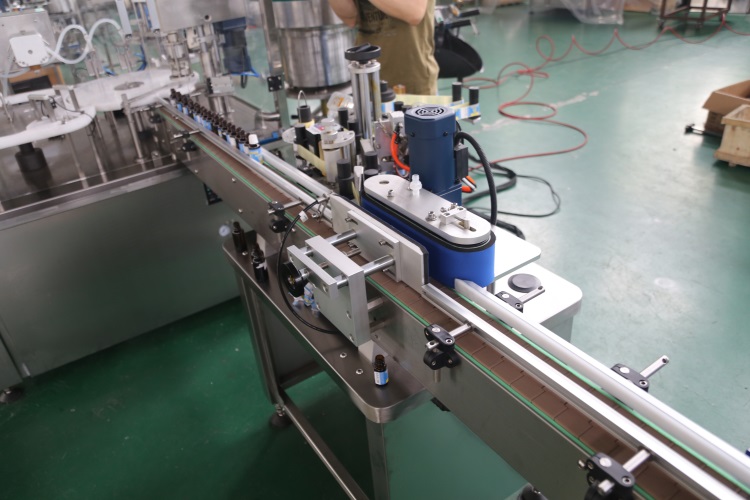 Servo driving system
Servo is always running better than normal , PX-BL120 label drived by servo motor ,make the label to be released more fluently ,without broken or cutting circumstance happening
Labeling belt
Wrap round label aplicator, Positive &negative we use as we use the sponge sponge as compressive belt, sponge has very strong contractility, which means that the label will be tightly squeezed without damage, the same applies to wide bottle caps, small diameter bottle samples, each tag can be perfectly applied the bottle and there will be no crease for extrusion, sponge has very strong contractibility, This means labels are tightly squeezed without breaking. This also applies to samples with wide caps and small bottle diameters, where each label fits perfectly without wrinkling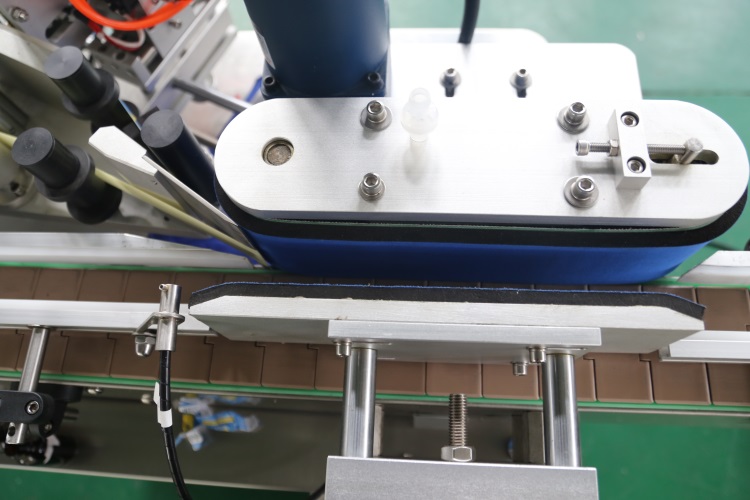 Height-width-Angle adjustment
Any labeling machines are all suitable for different formats ,which means sone kind of adjustments are necessary ,height ,angle , width , these 3 aspects decide how to put label in right way .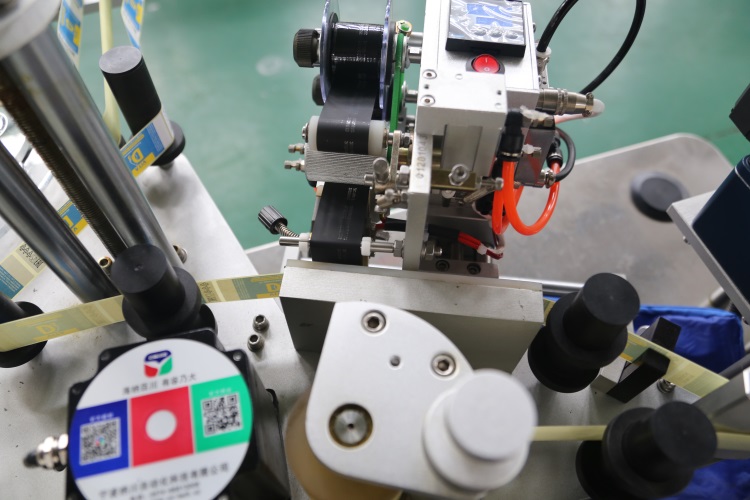 Printing engine
We set thermal printer with the labeler itself , to coding number , production date with the label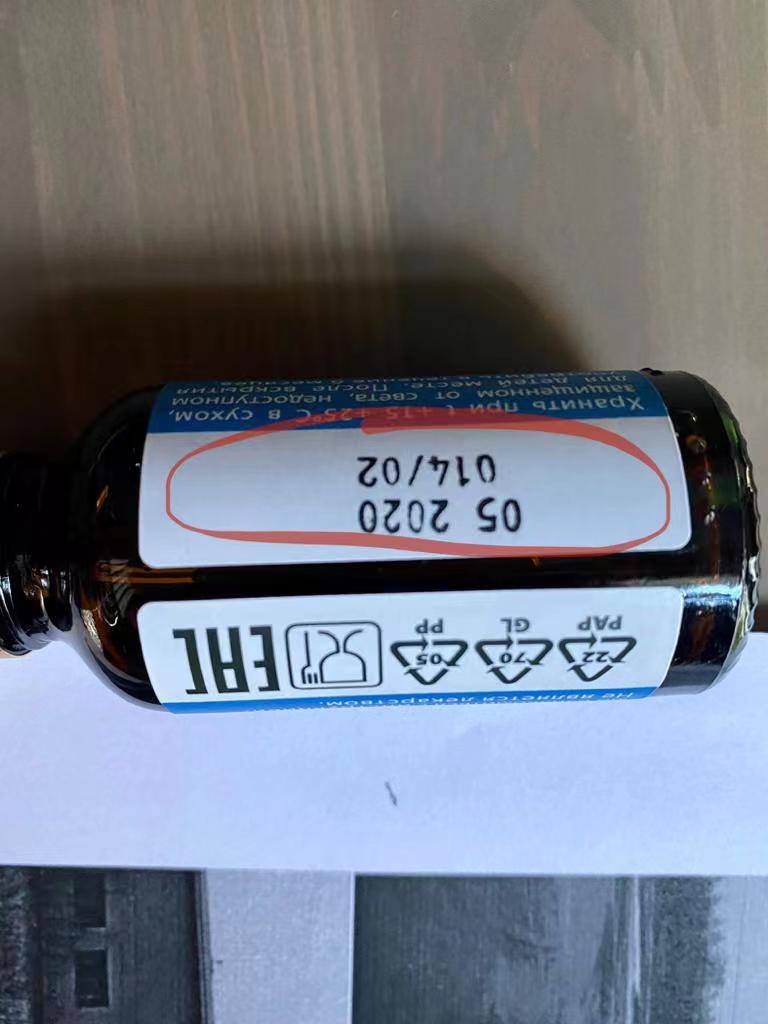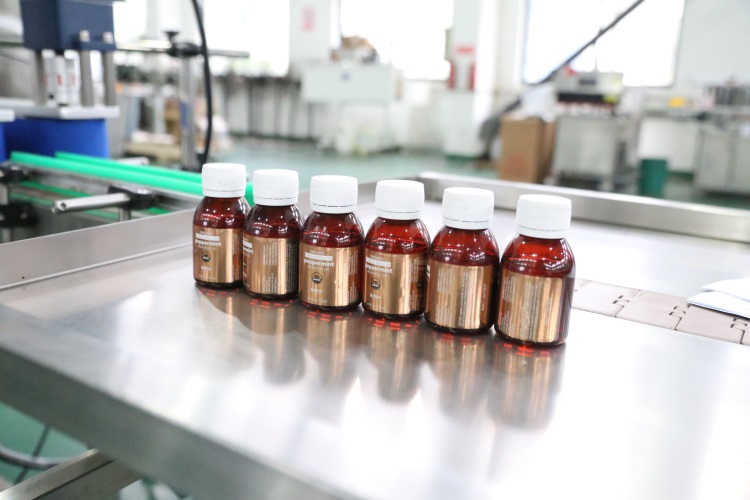 Looking for a similar product? Please contact us!