Quick Description
Condition: New
Type: Filling Machine
Machinery Capacity: 4000BPH, 400BPH, 500BPH, 2000BPH, 1000BPH, 100BPH, 200BPH, customization
Applicable Industries: Food & Beverage Factory, Retail, Energy & Mining, Engine Oil Factory, Daily Chemical Factory
Showroom Location: Egypt, Italy, Philippines
Application: Food, Beverage, Chemical, Machinery & Hardware
Packaging Type: Bottles, Barrel
Packaging Material: Plastic, Metal, Glass, Other
Automatic Grade: Automatic
Driven Type: Electric
Voltage: 220/380V, 50/60Hz
Dimension(L*W*H): 2600*1700*1600mm
Weight: 600 KG
Warranty: 1-3 Years
Key Selling Points: Easy to Operate
Filling Material: Milk, Water, Oil
Filling Accuracy: ≤±1%
Machinery Test Report: Provided
Video outgoing-inspection: Provided
Warranty of core components: 1-3 Year
Core Components: Pump, PLC, Gear, Engine, standard
Product name: Weighting Type Lube Oil Bottle Filling Machine
Keywords: Lube Oil Bottle Filling Machine
Feeling nozzle: 4, 5 or customization
Filling volume: 5-60kg
Feeling material: Cream, Liquid, Paste
Bottle type: Plastic barrel bottle
Feeling speed: 10-15pcs/min
Filling temperature: Normal temperature or heating
Control system: PLC Touch screen
After sale services: Online services, after services whole life
Marketing Type: Hot Product 2020
More Details
Wide Range of Applications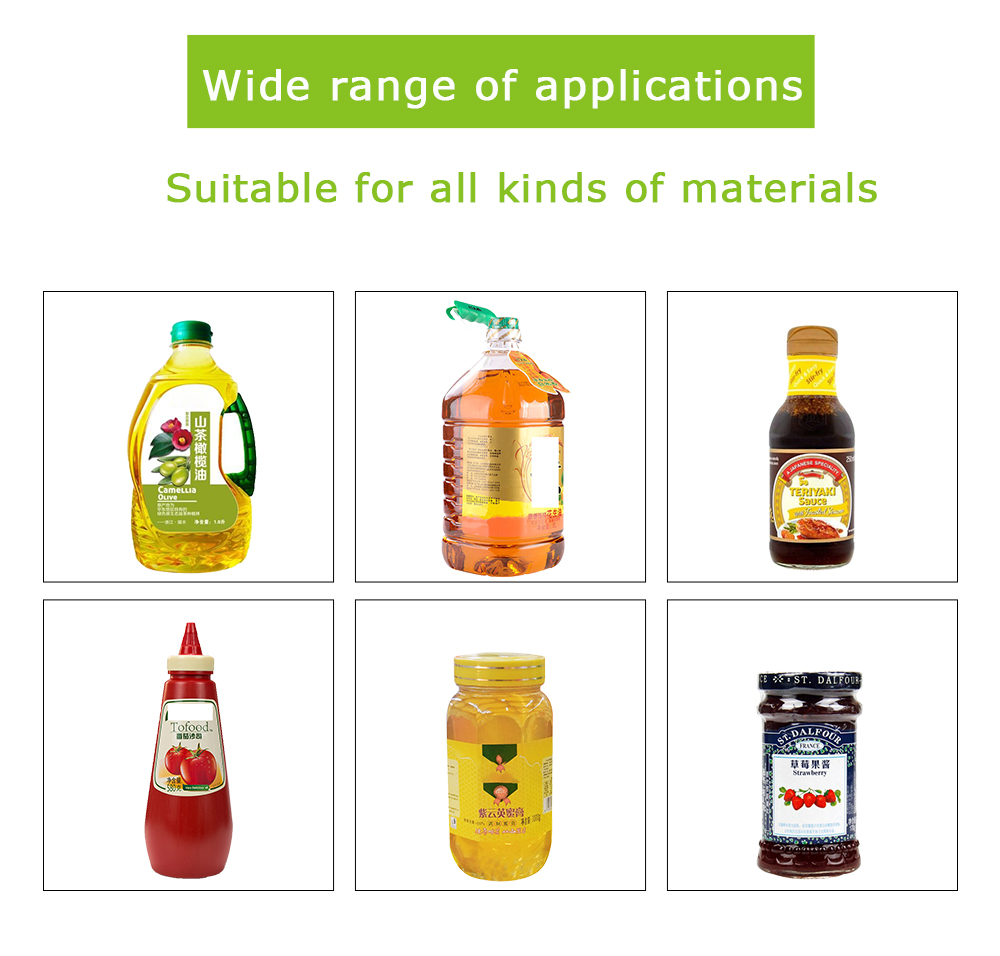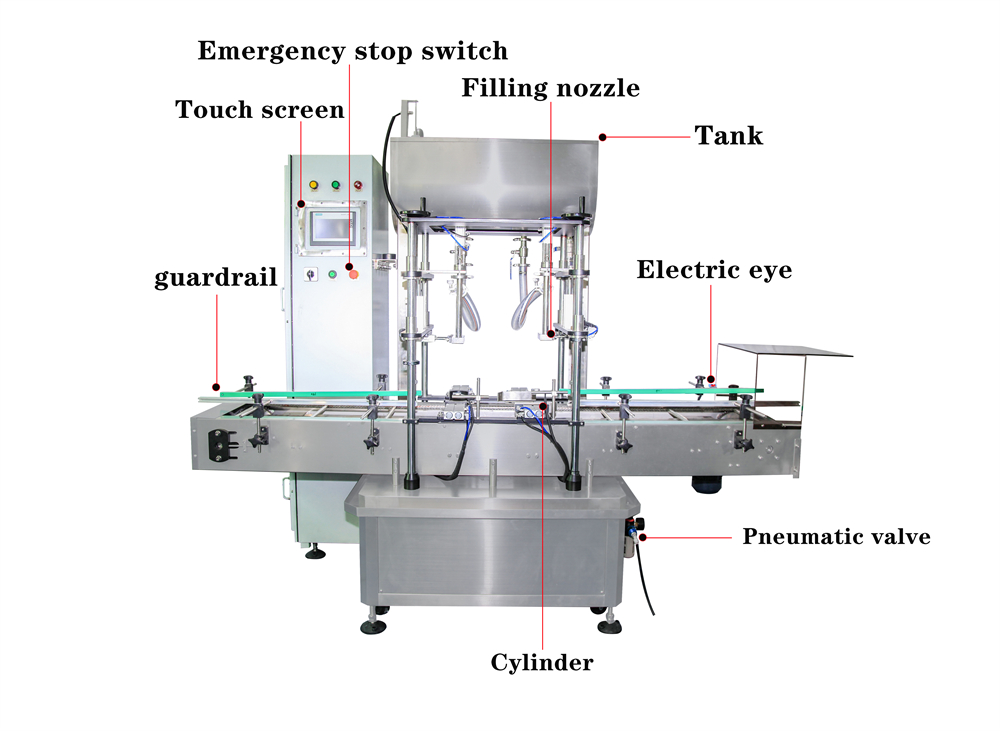 Main configuration:
1. Frame, foot and guardrail materials: aluminum profile, 304 stainless steel
2. Pneumatic components: Taiwan brand AIRTAC
3. Program controller: German brand Siemens
4. Man machine interface: German brand Siemens 7-inch color touch screen
5. Photoelectric sensor: German brand Leuze
6. Relay and air switch: French brand Schneider
7. Motor frequency converter: German brand Siemens
8. Materials of exposed parts: aluminum profile, stainless steel, anodized aluminum alloy, electroplated 45 steel and plastic parts
Technical Parameters
Filling head
2/4/6 (customization)
Filling speed
200-400 barrels/hour
Filling volume
100ml-1L, 500ml-5L, 1L-10L
Filling form
Weighing filling
Filling accuracy
±1.5%
Power supply
220V 50/60Hz, 1KW
Air pressure
0.6-0.8MPa
Net weight
600KG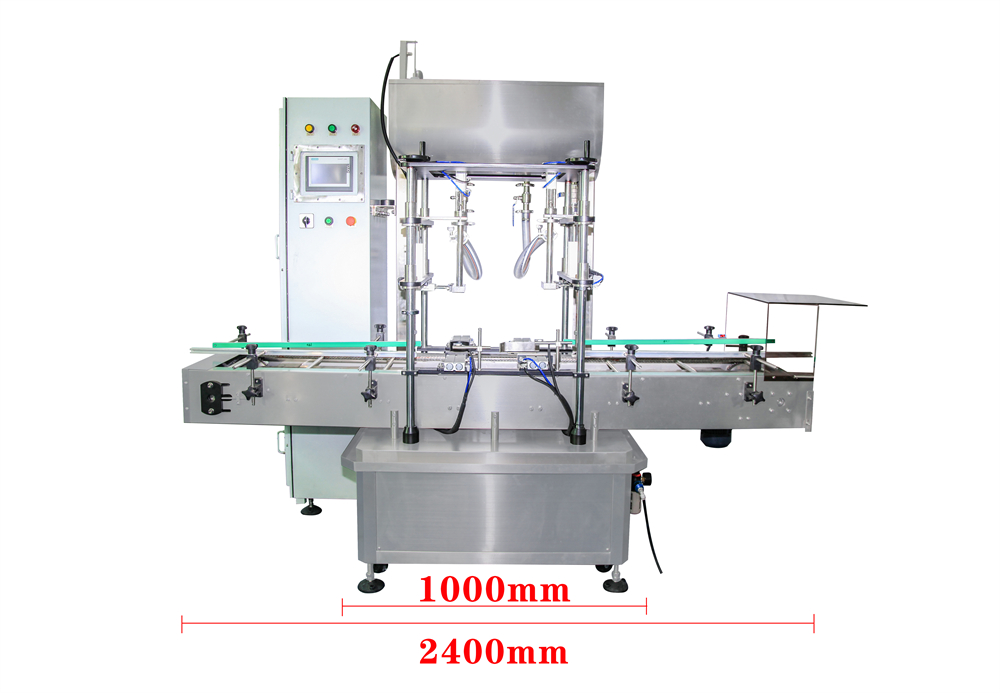 The 20l Drum Jugs Pet Bottle Cooking Edible Oil Weigh Filling Machine is an automatic filling machine designed for accurately filling large containers such as drums, jugs, and PET bottles with cooking or edible oil. The machine uses a weigh filling system that ensures precise measurements and minimizes product waste.
The machine is equipped with an advanced control system that allows for easy operation and monitoring of the filling process. The control panel features a touch screen interface that displays real-time information on the filling process, including the weight of the container, the amount of oil filled, and any errors or alarms. The machine also includes a user-friendly menu system that allows for quick and easy adjustment of filling parameters, such as the fill weight and speed.
The filling process is carried out using a high-precision weigh scale and a fast-acting filling valve that ensures accurate and efficient filling of the container. The machine is designed to handle a variety of container sizes and shapes, including drums, jugs, and PET bottles, and can fill up to 20 liters of oil per container. The filling speed is adjustable, allowing for a range of production rates to be achieved.
The machine is made of high-quality materials and is designed for long-lasting performance and durability. It is easy to clean and maintain, with easily accessible parts that can be quickly replaced if necessary. The machine is also designed to meet international safety and hygiene standards, making it suitable for use in food processing facilities.
Overall, the 20l Drum Jugs Pet Bottle Cooking Edible Oil Weigh Filling Machine is a reliable and efficient solution for filling large containers with cooking or edible oil. Its precision weighing system, user-friendly interface, and flexible container handling capabilities make it a valuable addition to any food processing facility.
Looking for a similar product? Please contact us!